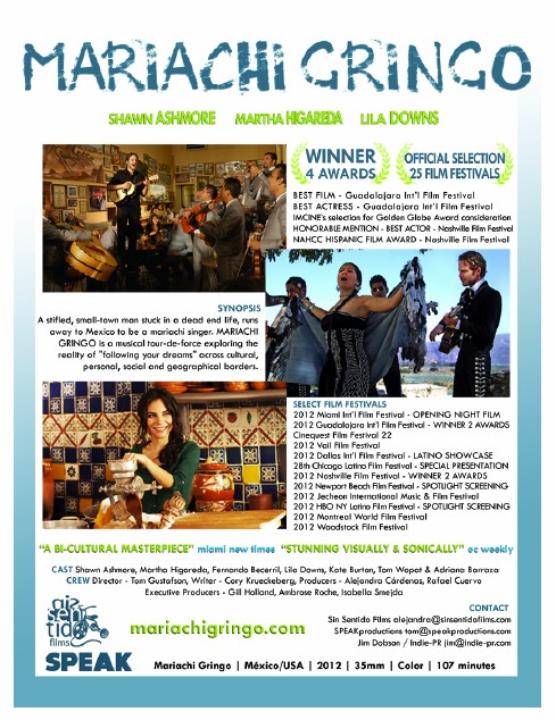 When Tom Gustafson and Cory Krueckeberg, two very
talented young independent filmmakers, came up with the idea for their cinematic collaboration which won the Best Film award at the Guadalajara (MX) International Film Festival, it was the culmination of a long and tortuous journey. Part of its genesis actually took place in our cross-border region which makes it particularly appropriate that their film would have its initial San Diego/Tijuana-area screening in Rosarito.
Cory told us that "...Tom and I were first introduced to Baja while we were living there during the filming of director Peter Weir's epic Academy Award-nominated sea-going adventure film MASTER & COMMANDER. Tom was one of the Casting Directors and I was the actor who played Ward the Purser. My only connection to Mexico prior to this was when my parent's took me (as a child) to their favorite...and very authentic...Mexican restaurant in my home-town of Fort Wayne, Indiana."
"While we were living and working in the Rosarito area for the many months it took to shoot the movie, we got a chance to visit many restaurants and bars in the adjacent neighborhoods...from Tijuana to Ensenada. We encountered many strolling musicians during these adventures but the real musical revelation came at the historic Hussong's Cantina in Ensenada. The experience of drinking tequila and beer while being entertained by the mariachi, while all the locals sang their hearts out along with them, was completely unique to us both."
"As creative types, we're always on the lookout for ideas. A few years later, I was on the subway in New York City...the A Train between Columbus Circle and my stop in Harlem, to be exact...when a trio of Mexican street musicians got on. For the next seven minute stretch between those express stops, they played... and sang... through a bunch of songs and all of a sudden the idea started to take shape. 'What if I wanted to do that?' Within a week I had ordered a bunch of CDs & books from Amazon and had a bookmark folder on my computer of hundreds of websites about mariachi as the story that I was creating began to germinate and percolate."
The film that finally evolved, as the partners' minds melded, had a deceptively simple story line. A stifled small-town man, stuck in a dead-end life, runs away to Mexico to become a mariachi singer. 'Mariachi Gringo' is a musical tour-de-force that explores the reality of 'following your dreams' across cultural, personal, social, and geographical borders. What Tom and Cory have packed into 107 minutes is pure cinematic magic.
The twists-and-turns of the plot will keep you riveted. Kudos to Cory here. The stellar performances of the actors and musicians definitely showcase Tom's chops as a top-notch director who assembled a cast of award-winners to bring the riveting story to an exhilarating on-screen life.
The crackerjack ensemble features Sean Ashmore, a young Canadian previously best known for his stint as Ice Man in the block-buster 'X Men' series; Martha Higareda, who starred along with Keanu Reeves and Foster Whittaker in the critically acclaimed "Street Kings"; Lila Downs, the Grammy Award-nominated virtuoso vocalist; the nonpareil character actor, venerable Fernando Becerril:; 4-Time Emmy nominee Kate Burton (who also happens to be Richard Burton's daughter); the Emmy Award-nominated Tom Wopat; the Tony Award-winning Deanna Dunegan; and the Oscar-nominee (for her incredible Best Supporting Actress role in 'Babel'), Adriana Barraza.
As the Official Selection of 25 International Film Festivals, as well as the winner of four major awards, 'Mariachi Gringo' has recently been put into consideration for Best Independent Film by the Golden Globe's selection committee. The Miami News has praised it as "a bi-cultural masterpiece' while the Orange County Weekly described it as " stunning visually and sonically."
We're sure that Playas de Rosarito is proud to welcome back this award-winning film to where it was conceived and less than a year after its birth.. Don't miss this opportunity to celebrate its success with a bevy of mariachi and their fans... young and old, male and female, gringo and not-so-gringo!
Where: the Rosarito Beach Hotel's main showroom, the Salon Mexicano
When: Thursday evening, October 4th; two screenings beginning at and
Cost: $5/person
Why: the opening event of the 3rd Annual Rosarito Beach International Mariachi & Folklorico Festival where all net proceeds go the benefit the Club de Ninos y Ninas Seccion Rosarito.