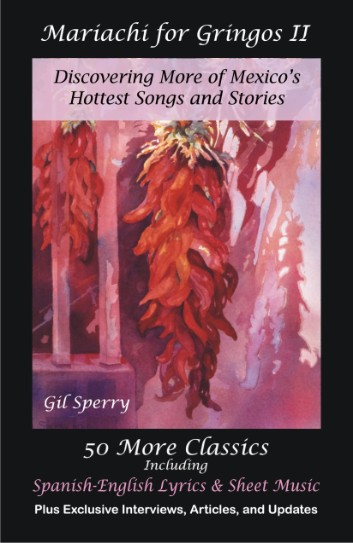 Discovering
More Of
Mexico's
Hottest Songs
and Stories


50 MORE
Classics
including
Spanish-English
Lyrics & Music
Sheet

Plus Exclusive
Interviews,
Articles, and
Updates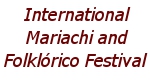 *Check out Mariachi Updates and Events in the new Blog/Newsletter
*Why is the author so passionate about mariachi? See/hear the story as he told it at
The University of Arizona's 2010 Nuestra Raices celebration. CLICK HERE
*Considering a 'Mariachi 101' presentation? Watch the author's interview for
The Metropolitan Cooperative Library System.
WATCH VIDEO
*Want to see what 'Mariachi 101' actually includes? Check out the
presentation at The Pomona (CA) Public Library. CLICK HERE
*Curious about our bonafides? Read our Curriculum Vitae by CLICKING HERE
*Would an All-Star panel discussing "The Positive Effects of Mariachi on The
Education of Hispanic Youth" be something you'd like to investigate? View one
that
we moderated California State University Los Angeles by following THIS PROMPT
*If you'd like to watch how a local television station covered the 1st Annual
Rosarito Beach International Mariachi & Folklórico Festival
CLICK HERE
*Interested in attending our Annual Rosarito Beach International Mariachi &
Folklórico
Festival? Find out how after watching the trailer from our 2010 Festival
2010 Interview with Diane Solomon of KKUP 91.5 FM, San Jose California LISTEN
The book explores mariachi in a clear, concise fashion. Although written originally, and primarily, for the non-Hispanic reader, it has been embraced by ALL who are looking for:
more knowledge of mariachi history

answers to their FAQs

comprehension of the 'stories' told by each song

biographies of six prominent 'gringos for mariachi'

articles and updates about the genre
In addition, a poll of the leading mariachi experts in both Mexico and the United States has produced a consensus ranked list of 50 More Requested Songs for you to use, sing, or play. Included are:
the sheet music, with chords

the Spanish lyrics

a line-by-line English translation
So... who will benefit from using this valuable volume? And how can you maximize your benefits from its utilization? First, click on each heading on the left side of this page to 'show and tell' all you need to know About the Book.
Once you've completed your search, you'll be ready to utilize Mariachi for Gringos II. Keep in mind that Webster defines utilize as "the means to participate and profit from a particular endeavor."
If you are interested in the Annual Rosarito Beach (MX) International Mariachi & Folklórico Festival, go to the right side columnar display for all the pertinent information.
Visit www.mariachiforgringos.yolasite.com and investigate the appropriate Wholesale Promotions listed on the right side of that site's Home Page.